KITCHEN REMODELING and RENOVATION
When you vision a new kitchen in your house you think of new cabinets, backsplash tiles, countertop, appliances, hardware, floor plans, paint color,… By now, you are so overwhelmed you don't know where to start and how to proceed.
Our professional team can help your vision come true by implementing a floor plan design and choice of material. Our team work with you interactively to make sure creation of your dream kitchen is a pleasant experience. They also estimate the cost within a few options to accommodate your budget.
Kitchen Remodeling Process
Design process:

There are many steps to take to ensure smooth transition from the old to the new in order to complete this project successfully on time.
Meet with designer to discuss a floor plan and the style
Select the right appliances to fit the floor plan, order cabinet door styles, hardware and handles, backsplash tiles, lighting, flooring, paint color, and etc
Scheduling for tearing out date is usually 2-5 days prior to delivery of new cabinets. Allow 2-6 weeks for cabinets arrival (allowing time varies depending on the custom or ready to use cabinets)
Construction process:
A- Tearing down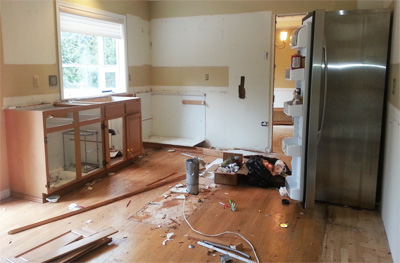 Before we start to tear down the kitchen, we plan your possible access to some parts of the kitchen during the construction period for your convenience. Depending on the size of the project, we may make it so that you can use your sink, stand-alone stove, microwave and fridge. But prepare for 6 weeks without a complete kitchen. Make arrangements for easy food, paper plates, plastic cups and cutleries.
Tear down process begins with removing old cabinets, counter tops, appliances, tiles, flooring, lighting, plumbing,…
Next is prepping the kitchen such as framing, dry walling, mudding,…
Depending on the construction plan, painting, lighting and flooring might happen before or after cabinet installation.
B- Building and finishing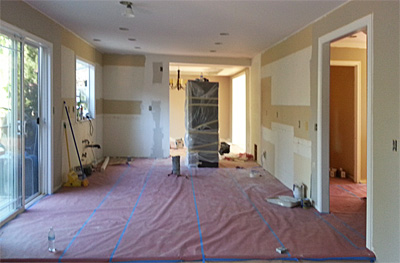 Once cabinets arrive, the building process starts. Cabinets are installed and countertops are measured by stone fabricators. Now you can expect the countertops installed within 1-3 weeks. You might not have access to the sink but some appliances might be installed at this stage. The flooring, final painting touches and lighting also become completed.
After the countertops arrive and installed, backsplash tiles can be done, sink and all other appliances installed and hooked up properly.
The last step is final touches, finishing off the trims, handles and final adjustments.
Congratulations; celebrate your new kitchen. It is time to open a bottle of wine

You have made your VISION a REALITY!